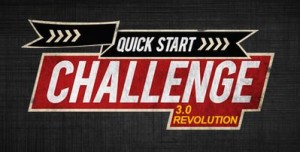 Thanks for stopping by….in this post I'm going to talk about The Quick Start Challenge 2015 and my first impressions so far. I'm going to update this blog post as I progress through the four weeks and give my review on how it goes.
A little background here…I've been doing internet marketing on and off since 2006. I had success back in the day building niche sites and ranking with organic SEO for competitive to easy competition keywords. Back when you could pick a keyword, register an exact domain, and blast 1000 crappy links at it with automated methods and rank quickly. Not a good business model and the hundreds of sites I had and most of my income disappeared with a Google update.
Since then I've focused more on paid traffic and product creation and creating more of a long term, real business that will sustain, give value to others and hopefully build into something big. The Quick Start Challenge and the blog you are reading are part of my first steps towards reaching this goal. I love to write and share knowledge with others so it seems like a good match. I'm going to share my experience here on how things go and hopefully have some success to report at the end of the four weeks.
Quick Start Challenge – Week 1
Started with a nice inspirational video and some background on the people that created the course (Dean Holland, Craig Crawford, and Robert Phillips) who all are experienced internet marketers with different strengths. Alot of other motivational talk and foundational pieces to get the base for the course. The main challenge for week 1 was to create a blog and post about The Quick Start Challenge so here it is. I started Steve's Profit Secrets some time ago but have left it dormant recently with the obligations of life. Part of what is being taught is to learn how to manage the amount of time you have and how to be more efficient. We all have limited time and this has been a major roadblock for me personally getting things done so I'm excited to learn some new methods to be more effective with my time. This is the start of a four week journey to building a business the right way from people that have this process down to a science and I plan on sharing it all here. Until next week!
Quick Start Challenge – Week 2
This week was all about traffic and strategies to get traffic to your blog and get your brand recognized with others. The two highlighted methods are somewhat basic and I was aware of them but they truly have stood the test of time and still work to this day. As a bonus, there is a cool method to leverage other people sites for links and more awareness of your site. This has been good for me so far as it is kind of resetting my mindset and making me thing long term and bigger picture. The big challenge for this week was to create a video and to be on screen, which puts many people out of their comfort zone. I have created many videos but must admit I've never put myself out there and been on video like that. So sometime before the start of next week I will post a video to YouTube and share it here. One other comment I have so far is there seems to be a great community of new and experienced internet marketers participating in this course and sharing information on a private Facebook group that has been setup. Look for the video below coming soon…
Quick Start Challenge – Week 3
Focused on building a list and the importance of building a relationship with people over time. The challenge was to setup an autoresponder, optin form and give away something for free to get people to signup on my list. I've used GetResponse for as long as I remember and have built lists in a variety of niches…except for this site! So I will soon be implementing a form to signup to join the Steves Profit Secrets newsletter.
Quick Start Challenge – Week 4
This week tied everything together and focused on simple tips to exponentially grow your business over time. There was a teaser to look forward to a bonus session next week which I was not expecting. Overall to this point I have learned some things even though I have been doing internet marketing for a while. I believe that going through this course and doing the challenges, even if you are experienced sets you up to have the correct mindset and habits to be successful.