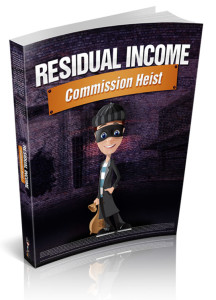 I created Residual Income Commission Heist when I saw how many people were not making the money they deserve.
I've created this product so you can start making more money with less effort. In this ebook you will discover:
A directory of the right programs that will start making you cash over and over again with one sale
The 11 evergreen categories that will make you rich
How with my detailed resource list – unlike any on the market today you will begin seeing more $$$ in your Paypal account. You just have to take action.
One you implement any of the programs in my directory you can set it on autopilot – and make money over and over again with minimal effort.
How to make your income residual – as opposed to a one-off effort – through promoting these programs on a continual basis.
With the same amount of work – once you are setup up – it takes little to no effort to keep $$$ rolling into your Paypal or bank account.
This is simply the best list of residual programs that are available. Work less…make more!