PLR stands for Private Label Rights and it is the ability to buy a digital product and modify and use it (usage depends on license rights which I'll get into below). PLR often gets a bad rap and alot of people consider it to be useless because there can be a bunch of the exact same content scattered all over the Web…especially for private label products that have been around for a while.
I'm here to tell you that while there is alot of duplicate digital products out there that people are trying to sell that are the same and originated as the same PLR product…YOU CAN MAKE MONEY…and alot of it if you know how to use it properly. Let's take a look at how to make money with PLR as I give you five different ways to profit that you may or may not know of.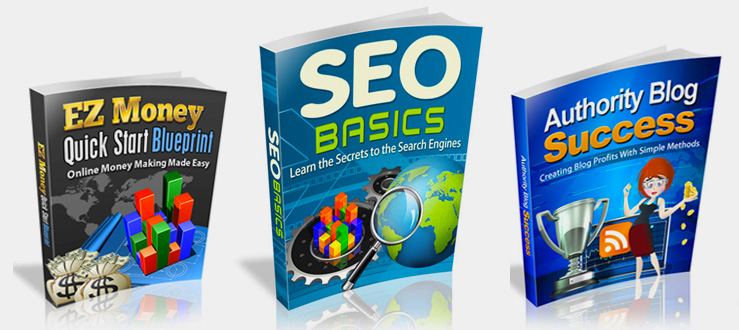 1. Rebrand and Sell as Your Own
With PLR available in just about every niche you can think of it is very easy to buy some PLR and take a small amount of time and effort and turn it into something unique enough to create a product you can sell with your own name on it.
The trick here is to change the name of the product, the ebook graphics, and sales page to be 100% unique. Also consider adding to the content of the main product and sprinkle in links to your website and affiliate links that are relevant for your niche.
2. Use as Content Inspiration
As a digital product creator you may struggle with ideas or coming up with enough information for a specific topic to create a full ebook. PLR is perfect for giving you some ideas when you write. Often you can take bits and pieces from one or multiple products and create something unique either as is or as a base to expand with your own writing.
I know alot of people that simply rewrite existing PLR into different words…similar to article spinning…that can create unique products quickly and do very well. Don't under estimate the power of this method it can be very powerful.
3. Give it Away…Give it Away…Give it Away Now
PLR is perfect for list building or other bribery to get leads and customers. Find a good report or full product and give to people in exchange for their contact information to help build a responsive list of potential customers.
Another thing you can do that is effective is use content locking on your own site and allow people to see it if they share or like the post. Very effective way to get some social media buzz for your blog.
4. Video Marketing
You can thank me later for this tip if you haven't already hears about it…video marketing is HOT. There are many tools out there that allow you to take any content and easily spit out videos. So take those articles and ebooks and convert to video and make $$$. Many options for redirecting the traffic to your website or affiliate marketing offers.
5. Use PLR to Setup your Autoresponder
One of the best ways to use PLR that I have personally done is to find a series of quality articles that are PLR for a certain niche and use them in sequence as an autoresponder series. You can also use parts of an ebook for this and make it a mini course.
Tips When Buying PLR
Being fully transparent here there are alot of CRAPPY PLR products out there. Everything from articles that were written in horrible English to products that have graphics that look like a kindergarten created them to software that doesn't function properly. So if you plan on putting your name on it you better make sure it is good enough or plan on spending some time to edit or improve the quality.
Generally anything that is very old may have information that is outdated and doesn't make sense or the sales page and or marketing materials or bad. Try and look at previews if they are possible and stick to products that have good ebook covers and previews. Try and also buy products that offer an editable ebook, and come with a sales page.
Even if you don't end up using the sales page it will give you an idea or some inspiration when you create yours if you are reselling the product.
PLR Purchasing Information
There are many places online to find a purchase PLR…including PLR membership sites, PLR stores, digital marketplaces like ClickBank, and also on internet marketing forums like the Warrior Forum and Digital Point. I have recently created a site to purchase PLR – check it out below:
There are a few different licenses available when you buy plr that you need to understand to properly use and resell it. Usually there will be a license included that spells out what you can and can't do after purchasing. Examples are:
[YES] Can give away the lessons to build your mailing list
[YES] Can be packaged
[YES] Can be offered as a bonus to a paid product
[YES] Can be edited completely
[YES] Can claim authorship
[YES] Can be added to paid membership sites
[YES] Can sell Resale Rights
[YES] Can sell Master Resale Rights
[YES] Can sell Private Label Rights
[YES] Can be offered through auction sites
[NO] Can claim copyright
[NO] Give away resale rights
[NO] Give away private label rights
[NO] Can be given away for free
[NO] Can be added to free sites or free membership sites
As you can see the above information tells you specifically what you can and cannot do with the product. You need to look at this before you buy to make sure you will have the rights you need for the future. MRR or Master Resale Rights allows you to buy and resell a product. Some MRR products will not allow you to edit like a typical PLR product so be aware of this.
Final PLR Tips
As you can see there are a bunch of possibilities of how to make money with PLR. Remember…you won't be successful taking PLR as-is and just posting it on your website. Duplicate content out on the Web is not the way to go. Be creative and use PLR to your advantage…leveraging it with the strategies I have given you above.
Do you use PLR in your business? I'd love to hear about it…enter a comment below!